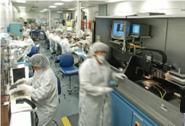 Frequency Technology, Inc. was founded in 1962 with the objective of providing state-of-the-art crystal clock oscillators and hybrids.Now Frequency Electronics Technology, Inc. is combined with Frequency Electronics, Inc. .Fre-Tech's Products and Quartztek, strengthened its position in the high stability, high performance oscillator arena, as well as in the military marketplace. Monitor Products had been a QPL qualified technology leader in the high stability segment of the frequency control market, manufacturing custom Xos,VCXOs,TCXOs and high accuracy OCXOs. Fre-Tech Products was also (QPL) qualified to MIL-PRF-55310. Fre-Tech Products' expertise in the industry goes back 45 years.
Frequency Technology, Inc. is ISO-9001 (2000) registered and the leading U.S. manufacturer of qualified products to MIL-PRF-55310. We service the Military, Aerospace, High-Temperature (Down Hole) and Deep Space industries and are very proud of our technological successes in land, air, sea and space applications. Such a system enables Fre-Tech to react quickly and to offer the most competitive prices when faced with short lead times having either low or high volume requirements. Fre-Tech continues to provide unequaled quality control, on-time delivery, and first-rate customer service. In fact, the company's exceptionally capable staff is a major reason for its repeat business and steady growth.
Frequency Technology, Inc. consistently re-invests its profits into the company and continues to pursue selected strategic investments to stay at the forefront of technology and promote future growth. The company has earned close, long-term relationships with its customers by providing high quality products, competitive pricing, timely delivery, reliable engineering support, and unparalleled flexibility.
Fre-Tech's products are known worldwide for their exceptional quality and competitive prices. Fre-Tech would like to earn your business and be your preferred supplier of frequency control devices.
Frequency Technology, Inc., your Complete Source for Crystals and Oscillators.